Current & Proposed Projects | Recently Completed Projects
Current & Proposed Capital Projects
Nicor Easement Bikeway Connector
May 20, 2022 – Construction of a multi-use paved pathway on the Nicor Easement connecting Ide's Grove West Park to Ide's Grove East Park began the week of May 16th with preparation work. Weather permitting, excavation and paving work is slated to begin the week of May 23rd. Project completion including site restoration is anticipated by early June with the path immediately opening for public use.
new park shelter coming soon to windy point park
May 20, 2022 – As a result of the damage incurred by the June 2021 tornado, the shelter at Windy Point Park is slated for replacement. The damaged shelter was removed on March 21st. Construction of a new shelter to be erected in the same location began on May 20th. The park shelter replacement is scheduled to be completed and reopened to the public in June.
path & parking lot repairs going on now through july 1
May 10, 2022 – Asphalt maintenance including crack repair and sealcoating will take place at numerous park sites and pathways throughout Woodridge beginning May 11 through July 1. Parking lot closures will occur during this time. Sites include:
Hobson Corner Park Parking Lot: tentatively scheduled for Thursday, May 12 and Friday, May 13
Orchard Hill Park Parking Lot & Path: tentatively scheduled for Thursday, May 12 and Friday, May 13
Sunnydale Park Parking Lot & Path: tentatively scheduled for Thursday, May 12 and Friday, May 13
Forest Glen Park Parking Lot: tentatively scheduled for Thursday, May 12 and Friday, May 13
Castaldo Park Parking Lot: tentatively scheduled for Thursday, May 12 and Friday, May 13
63rd Street Park Path
Summerhill Park Path
ComedEd Path from 63rd Street to 71st Street
Path near Janeswood Avenue
Hawthorne Hill Woods Paths & Driveway
Windy Point Park Path
Ide's Grove East Park Path
Mending Wall Park Path
Castaldo Park Turf Restoration 
May 10, 2022 – Aerating, seeding and fertilizing of a large area of turf at Castaldo Park was slated to begin on April 18 but has been delayed by approximately 4 weeks due to the rain. A new start date will be communicated soon.
Forest Glen Park Re-seeding area
May 10, 2022 – Worn areas around the playground at Forest Glen Park were recently re-seeded and stakes and tape were installed to prevent patrons from using the area while the grass grows. The playground is open for play during this time.
Playground Closures Begin March 28 for Safety Surface Replacement
May 2, 2022 – As part of the District's capital replacement program, removal and replacement of the playground safety surface occurred in late March at Willow Creek School and late April at Somerset Park. The contractor removed the old surface & fabric and replaced it with "Safe-T-Mat," an engineered, ADA-approved wood chip. The contractor will do the same scope of work at Falconridge Park; the playground will be closed while work occurs.
TORnado recovERY StaTUS
March 21, 2022 – The Park District continues to work with the insurer regarding claims for repairs and/or replacement of capital assets within 10 park sites impacted by the tornado. Currently, the District is under contract for the spring replacement of the damaged park shelter at Windy Point Park in addition to the installation of 84 landscape trees at 4 heavily impacted park sites (Ide's Grove East, Ide's Grove West, Ide's Legacy and Windy Point Parks).
ide's grove west park restoration status
March 21, 2022 – In June of 2022, the District's contractor will remove remaining sections of an existing fence along the west perimeter of Ide's Grove West Park that was damaged by the tornado.
Regarding tree replanting efforts of the exiting woodland, the District, in coordination with Davey Expert Tree Company and other consultants, is planning implementation of the first phase of woodland restoration in late spring/early summer of this year. The proposed efforts will include the replanting of trees, saplings and seeds. The replanting efforts will incorporate a mowed width (approximately 12-15') along residential property lines to maintain a buffer area creating a separation between residential mowed grass lawns and the planned natural woodland restoration areas to best maintain the property lines and assist with future natural area management of the woodlands. The re-introduction of woody plant material will primarily incorporate the planting of container grown native tree species of various sizes, most between 5-25 gallons. The heavy root mass remaining in the soil make the planting of larger trees impractical. These proposed trees will include species that will best sustain future prescribed burning activities, typically scheduled every 3 years. Evergreen trees are not recommended for the replanting within the natural woodland restoration areas to ensure the best success for overall woodland restoration and natural areas management efforts. The evergreen trees previously planted north of the upper playground per the originally park master plan will be replanted accordingly in addition to the replacement of numerous landscape trees lost across the park site.
The District has and continues to seek funding and donations to offset the budgetary impacts of the replanting efforts. To date, staff has sought and been awarded $4,000 in reimbursable grant funds including $3,000 from the nonprofit group Trees Forever through their "Recover, Replant, Restore!" grant program and an additional $1,000 from IDNR's "Earth Day in the Parks" grant initiative. Local partners including Davey Expert Tree Company, Site One Landscape Supply, and the Morton Arboretum have also committed the donation of trees and of supplies critical to the replanting efforts. Numerous residents have also expressed interest regarding tree donations. Potential tree donations for the replanting of the Ide's Grove West Park woodland area will be selected based on native fire-resistant tree species which is as a best management practice to successfully re-establish this natural woodland. For more information regarding tree donations, please call the Parks, Planning and Development Department at (630) 353-3400.
Boundary hill woods RESTORATION STATUS
March 21, 2022 – In the aftermath of the June 2021 tornado, the District contracted the completion of initial extensive tree work at Boundary Hill Woods which was completed in the weeks following the storm event. This work included removal of all downed and damaged trees in the sections of the site located to the north of the creek that bisects the property.  As a result of site access limitations and the availability of funds, the sections of the site located to the south of the creek were managed differently. The contractor felled and pruned trees as necessary to address hazardous conditions. The felled trees and branches were then left in place to be addressed at a later date. In the District's 2022 budget, funds were allocated for the rental of heavy equipment to grind the remaining debris on-site.  Due to site access limitations, the resulting grindings (mulch) will be left in place. Natural Resource Management staff is targeting late fall of 2022 for completion of these efforts. Planning of any replanting efforts for Boundary Hill Woods will not begin until the site has been cleared.
HAWTHORNE HILL WOODS BRIDGE REPAIR & Pathway development project

 
February 22, 2022 – The permit for the Hawthorn Hill Woods bridge repairs and new pathway development project is currently under review with construction expected to start this spring or summer and completion planned for this fall. The plan includes repairing the existing driveway bridge and building a 10' wide asphalt path extension that will add on 0.6 miles to the existing bike path system, resulting in a 1.1-mile loop from Woodridge Drive into the Hawthorne Hill Woods site.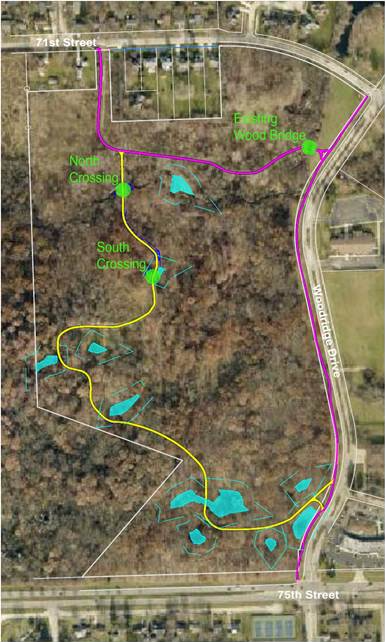 TREE PRUNING & REMOVA

L

August 9, 2021 – The lack of rainfall in the last two years has had a negative impact on the mature Oak trees throughout the District and has pushed some of the already stressed trees past the point of recovery. Therefore, 12 trees at Castaldo Park and two trees at Echo Point will be removed. Additionally, four trees at Castaldo Park will be pruned of dead wood.

In consultation with Morton Arboretum, the District developed a plan to aid the current Oaks at Castaldo and Echo Point Parks, which consists of periodic watering as needed, insecticide treatments in the fall, fertilization in spring of 2022 and applying a growth regulator on new trees in the summer and fall of 2022.

In addition to the tree pruning and removals at Castaldo and Echo Point Parks, additional tree work will occur at Hawthorne Hill Woods related to the development of an alternate Haunted Forest Walk access path which was necessitated by a culvert washout in 2020.
---
Recently Completed Projects
SLED HILL OPENED for PLay on January 1
January 3, 2022 – The new sled hill, located just west of Jefferson Jr. High's new athletic field complex, was closed last winter in order to properly establish the hillside turf, but it's now ready for snow and sledders! The 22-foot hill will be open during daylight hours when conditions allow for sledding. Visit the Woodridge Park District's Rainout Line web page to view the sled hill's status and sign up for text or email alerts
RETAINING WALL REPLACEMENTS
October 22, 2021 – A contractor removed and replaced an existing degraded retaining wall at Internationale Estates Park and removed and reinstalled an existing leaning retaining wall at Forest View Park.
janes avenue baseball infield renovations
October 22, 2021 – Ballfield renovations at Janes Avenue Park's northeast baseball field began on September 27th and were completed on September 30th. The existing 90-foot skinned infield was converted in to a 70-foot skinned infield for improved playing conditions. The project also included removal of material, fine grading, sodding, moving five existing irrigation heads, and installing clay in the wear areas near the plate and mound.
MEADOWVIEW SCHOOL EAST PLAYGROUND Replacement
October 20, 2021 – Work at Meadowview School's east playground began in early August and was completed the week of October 19. The playground also serves residents in the new Hobson Hill subdivision and the project is a cooperative agreement between School District #68 and the Park District. Improvements include: replacement of the existing asphalt walk between Foxtree Lane and the school parking lot with an ADA accessible poured concrete walk; repaving of the existing asphalt play lot along the east side of the school; redevelopment of courts on the play lot including a new basketball court with hoop and foursquare courts; development of landscaped and bench seating areas; and replacement and expansion of the existing playground which includes new play equipment, concrete curbed borders, ramp access, drainage system and wood fiber safety surfacing.
FOREST GLEN PARK TEnnis court & PLAYGROUND IMPROVEMENTS COMPLETED
September 17, 2021 – The Forest Glen Park tennis courts were  September 7-17 for recoloring and crack repair work. The playground at Forest Glen Park reopened for public use on Monday, July 26th following the completion of planned renovations. During the 17-day closure, contractors removed the original rubber surfacing, prepared the subsurface and completed installation of new, colorful poured-in-place rubber surfacing.
NEW SWINGS & OTHER IMPROVEMENTS COMPLETE AT MURPHY SCHOOL
September 1, 2021 – Construction  at Murphy School was completed in September to replace aged swing equipment, timber borders and surfacing. Improvements include: installation of a new 4-bay swing structure, concrete curbed borders, an accessible ramp, drainage system and wood fiber safety surfacing.
Jefferson Junior High School Track & Artificial Turf Athletic Field Project
The Park District partnered  with School District 68 to partially share in the funding and use of an outdoor athletic facility at Jefferson Junior High School.  The new facility is located west of the school and includes an eight-lane track with a lighted synthetic turf sport field in the center for multi-sports, as well as relocation of two new baseball/softball fields to the north of the school property.  Click to view the park.