Current & Proposed Projects | Recently Completed Projects
Current & Proposed Capital Projects
FOREST GLEN PARK TEnnis courts closed
September 3, 2021 – The Forest Glen Park tennis courts will be closed for a period of 2-3 weeks beginning on Tuesday, September 7 for recoloring and crack repair work.
The playground at Forest Glen Park reopened for public use on Monday, July 26th following the completion of planned renovations. During the 17-day closure, contractors removed the original rubber surfacing, prepared the subsurface and completed installation of new, colorful poured-in-place rubber surfacing.
TORnado recovery status
September 2, 2021 – The Park District continues to work with the insurer regarding claims for repairs and/or replacement of capital assets within 10 park sites impacted by the tornado. Currently, the District's Natural Resource Management Team and tree removal service contractor completed removal of damaged trees including most stump grinding. Next, the team will transition to reseeding work to reestablish vegetation and stabilize landscapes. Crews will apply a native seed mix in the previous woodland in order to establish a native landscape adaptable to the new full sun exposure and a grass turf mix will be applied in the areas adjacent to the playgrounds and formal park areas.
ide's grove west park restoration status
September 2, 2021 – The District's contractor will remove an existing fence along the west perimeter of Ide's Grove West Park that was damaged by the tornado tentatively scheduled the week of September 23-27.
Regarding tree replanting efforts of the exiting woodland, the District in coordination with Davey Expert Tree Company and other consultants will determine if it is feasible to complete a Phase 1 restoration program this fall to begin the replanting of trees, saplings and seeds. If conditions are not acceptable and/or resources are not available to complete this fall, the goal will be to plan for the Phase 1 replanting in spring of 2022. The replanting efforts will incorporate a mowed width (approximately 12-15') along residential property lines to maintain a buffer area creating a separation between residential mowed grass lawns and the planned natural woodland area restoration areas to best maintain the property lines and assist with future natural area management of the woodlands. The re-introduction of woody plant material will primarily incorporate the planting of tree whips and 25-gallon trees. These proposed trees will include species that will best sustain future prescribed burning activities, typically scheduled every 3 years. Evergreen trees are not recommended for the replanting within the natural woodland restoration areas to ensure the best success for overall woodland restoration and natural areas management efforts. The evergreen trees previously planted north of the upper playground per the originally park master plan will be replanted accordingly.
The District has and continues to receive resident interest regarding tree donations. Potential tree donations for the replanting of the Ide's Grove West Park natural woodland area will be selected based on native fire-resistant tree species which is as a best management practice to successfully re-establish this natural woodland. Trees will be planted a minimum of 12-15′ from the property lines to allow for the planned mowing setbacks and the specified tree size will most likely be 25-gallon trees to ensure long-term planting success given the uncertainty of existing planting location conditions. Donations will be coordinated with restoration volunteer efforts from Davey Expert Tree Company along with any resident donations received. For more information regarding tree donations, please call the Parks, Planning and Development Department at (630) 353-3400.
TREE PRUNING & REMOVAL
August 9, 2021 – The lack of rainfall in the last two years has had a negative impact on the mature Oak trees throughout the District and has pushed some of the already stressed trees past the point of recovery. Therefore, 12 trees at Castaldo Park and two trees at Echo Point will be removed. Additionally, four trees at Castaldo Park will be pruned of dead wood.
In consultation with Morton Arboretum, the District developed a plan to aid the current Oaks at Castaldo and Echo Point Parks, which consists of periodic watering as needed, insecticide treatments in the fall, fertilization in spring of 2022 and applying a growth regulator on new trees in the summer and fall of 2022.
In addition to the tree pruning and removals at Castaldo and Echo Point Parks, additional tree work will occur at Hawthorne Hill Woods related to the development of an alternate Haunted Forest Walk access path which was necessitated by a culvert washout in 2020.
WORK GOING ON NOW AT MURPHY & MEADOWVIEW SCHOOL PLAYGROUNDS
August 6, 2021 -Construction is underway at Murphy School to replace aged swing equipment, timber borders and surfacing. Improvements include: installation of a new 4-bay swing structure, concrete curbed borders, an accessible ramp, drainage system and wood fiber safety surfacing. Work is scheduled to be completed before the start of the school year at Murphy School.
Work at Meadowview School's east playground began in early August and is tentatively scheduled for completion in late September. The playground project, which is a cooperative agreement between School District 68 and the Park District, includes: replacement of the existing asphalt walk between Foxtree Lane and the school parking lot with an accessible poured concrete walk; repaving of the existing asphalt play lot along the east side of the school; redevelopment of courts on the play lot including a new basketball court with hoop and foursquare courts; development of landscaped and bench seating areas; and replacement and expansion of the existing playground to include new play equipment, concrete curbed borders, ramp access, drainage system and wood fiber safety surfacing.

Town Centre Sled Hill Development Substantially Complete
October 12, 2020 – The site grading, seeding and site restoration work at the Town Centre Sledhill is now substantially complete. The sledhill, located just west of Jefferson Jr. High's new athletic field complex, will remain closed this winter in order to properly establish the hillside turf. The hill will be open to the public for the first sledding season in December 2021.
Nicor Easement Bikeway Connector (Ide's Grove East Park to Timbers Edge Park)
December 20, 2020 – The District  approved a license agreement with Nicor for the easement that connects Ide's Grove East Park to the Timbers Edge subdivision. Plans for the easement entail the construction of a multi-use paved pathway connecting the existing pathways in both park sites. Staff is working with the civil engineer to complete grading plans. Upon this completion, staff will seek public feedback.
---
Recently Completed Projects
Jefferson Junior High School Track & Artificial Turf Athletic Field Project
The Park District partnered  with School District 68 to partially share in the funding and use of an outdoor athletic facility at Jefferson Junior High School.  The new facility is located west of the school and includes an eight-lane track with a lighted synthetic turf sport field in the center for multi-sports, as well as relocation of two new baseball/softball fields to the north of the school property.  Click to view the park.
Baggo Courts Coming Soon to Echo Point Park
October 30, 2020 – A pair of fully accessible Baggo courts were installed at Echo Point Park. The courts include bench pads with companion seating, paver throwing pads, and concrete game boards, and are located along the existing asphalt walking path between the park shelter and the parking lot. The Baggo courts replace the old horseshoe pits. Click to view the park.
Ide's Grove West Development Project is Complete and the Park is Open for Play
October 29, 2020 – The Ide's Grove West Development project was completed and the park opened for play on Thursday, October 29.  The project included renovation of the existing Ide's Grove West Park, as well as new developments for Ide's Grove West and Timbers Edge subdivisions. The new park  now includes 2-5 year old and 5-12 year old composite playgrounds with swings, a zip line, hillside slides, a shelter, seating areas, a drinking fountain, accessible walks connecting neighborhoods to the park and existing bike paths and landscaping throughout. Click to view the park.
A ribbon-cutting and park dedication to recognize the 12-person Park Advisory Planning Committee was originally scheduled for Saturday, October 31, but was cancelled due to the current Covid-19 gathering restrictions. A virtual dedication will be posted soon and an in-person dedication will be re-rescheduled for spring 2021.
Master planning efforts were completed in spring 2019 by the Woodridge Park District planning staff in cooperation with a nine-person Neighborhood Park Planning Committee comprised of residents from both Timbers Edge and Ide's Grove West Park subdivisions. The final master plan was presented and approved by the Park District Board of Commissioners in summer 2019 and the project went to bid in winter 2020.
This project was also awarded a grant from GameTime and the Illinois Park and Recreation Association, reducing the cost of the 2-5 and 5-12 year old modular playground structures by 50% of the list price, resulting in an estimated $40,000 savings. These cost savings will be directly applied to other park development features within this park site.
63rd Street Park Parking Lot Project Update from Nicor Gas
July 31, 2020 – Nicor Gas, with its contractor Precision Pipeline, LLC, replaced a 2,700-foot segment of 36-inch natural gas transmission pipeline within the Nicor Gas/ComEd right-of-way beginning north of 59th Street (just west of Meadows Swim Club) to north of 63rd Street (within the 63rd Street Park parking lot) in Woodridge.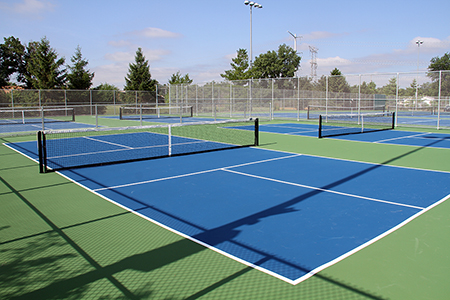 Pickleball Courts Now Open at Hobson Corner Park
July 17, 2020 – Construction at Hobson Corner Park is complete and the tennis/pickleball complex now consists of 4 tennis courts and  4 pickleball courts. Construction included converting one of the tennis courts into 4 pickleball courts, line striping the remaining 4 courts for pickleball and tennis multi-use, and new fencing. Click to view the park.
Reinvestment Continues at Cypress Cove
July 27, 2020 – While Cypress Cove Family Aquatic Park remains closed for the season due to COVID-19, the Woodridge Park District is using this time to reinvest in the aquatic park for a successful reopening in 2021! Staff temporarily filled the pools with water in early July to complete construction testing of the newly replaced filtration system and shortly thereafter drained the pools.
The new state-of-art filtration system was installed at Cypress Cove this spring. Diatomaceous Earth (DE) filters replaced the old sand filters in the main, plunge and program pools and the lazy river. Some of the old filters are original to the water park, which was built in 1997, and some filters were carried over from Hobson Pool. Advantages of the new DE filters include:
The ability to immediately filter out particles down to 3 microns or less, giving the pool water unparalleled clarity
Old filter media is completely replaced every time staff backwashes and recharges the DE filter.
If algae is present, it gets trapped in the dark filter with no light, therefore preventing growth and giving staff time to add additional chlorine.
Longer cycles between backwashing saves a significant amount of water use/costs.
Small filter size provides more room for storage in the existing filter building.
83rd Street Park Open for Play
August 24, 2019 – Work at 83rd Street Park was completed in August. The park now includes a 30×40 picnicking shelter with seating for 100+ patrons, a junior size soccer field & open turf space, accessible baseball dugouts and walks throughout the site, drinking fountain, picnic tables, benches, permanent baggo boards and ping pong tables. Turf protection fencing will remain on site to prohibit play on the recently -seeded field and will be playable in spring 2020. The park site will be a rentable picnic location tentatively scheduled for the 2020 season.