Current & Proposed Projects | Recently Completed Projects
Current & Proposed Capital Projects
Boundary hill woods RESTORATION STATUS
Updated April 3, 2023 –On Sunday, April 2, a group of 18 volunteers from the DuPage County 4-H Club assisted Park District staff with the planting of 25 native oaks at Boundary Hill Woods, a site heavily impacted by June 2021 tornado. The mix of Bur, Red, and White Oaks in addition to bags of mulch for planting were a donation from the Kane-DuPage Soil & Water Conservation District. The planting of these 25 5-gallon oaks is a step toward restoring a site that saw the loss of an estimated 300 mature trees less than two years ago.
HAWTHORNE HILL WOODS RECREATIONAL TRAIL PROJECT PUBLIC HEARING & Grant APPLICATION
Updated March 2, 2023 – The District is finalizing plans to submit an application for a $200,000 Illinois Department of Natural Resources Recreational Trail Program for the development of a recreational trail within Hawthorne Hill Woods in accordance with the proposed 2014 Woodridge Town Centre Master Plan. The grant, if approved, would offset the estimated $500,000 project cost. The proposed engineered recreational trail  will consist of mostly crushed limestone with some asphalt connections transitioning to the existing bike paths and over culverts. The trail will meander through the woodlands connecting users of the existing Woodridge Comprehensive Multi-use Pathway System on the north and south ends of the woodlands as well as provide users enhanced opportunities to more closely experience nature. Prior to submitting the grant application, the District has scheduled a Public Hearing on Tuesday, March 14, 2023 at 6:30 p.m. at the Fred C. Hohnke Community Center in the Willow Board Room, 2600 Center Drive, Woodridge, IL 60517. The purpose of the Public Hearing is to solicit public review and comments on the proposed trail. Comments may also be submitted in writing in advance of the Public Hearing addressed to Director of Parks, Planning and Development, Jennifer Knitter, by email or by mail or drop-off to the Fred C. Hohnke Community Center, 2600 Center Drive, Woodridge, IL 60517.
Woodridge Park District and School District 68 Collaborate to Replace Murphy and Edgewood School Playgrounds
March 7, 2023 – New playground equipment will be coming this fall to Murphy and Edgewood Schools. Woodridge Park District staff collaborated with the District 68 Administrative Team and each school's principal as well as getting feedback from students and faculty. The final selection of the new playground equipment was determined through an online survey for teachers and students to select their favorite playground design. The Woodridge Park District board of commissioners approved the authorization to purchase equipment and bid site work at the February meeting.
The proposed work includes renovations of the existing playground areas and site improvements consistent with park standards at Murphy and Edgewood Schools. The scope of work includes: the replacement of existing modular playground equipment at both sites, the replacement of swings at Edgewood School, the replacement of existing wood timber borders with poured concrete barrier curbing and seat walls, replacement of engineered wood fiber playground safety surfacing, drainage improvements, the addition of accessible ramps, paving for accessible site amenities (benches and trash receptacles) and landscape plantings for increased shade.
Because of a long-standing intergovernmental partnership between the two agencies, the playground replacement costs will be funded cooperatively by both School District 68 and the Woodridge Park District. The sharing in costs also allows Park District staff to enhance the two playground areas in line with the District's typical park developments with the addition of site furnishings (benches and trash receptacles) and the planting of shade trees.
Construction is expected to begin in June 2023, with the non-profit organization Kids Around the World removing the existing structures to refurbish and reuse them in an underserved community as part of an international mission project. These playground replacement improvements  are targeted to be finished before the 2023-2024 school year begins.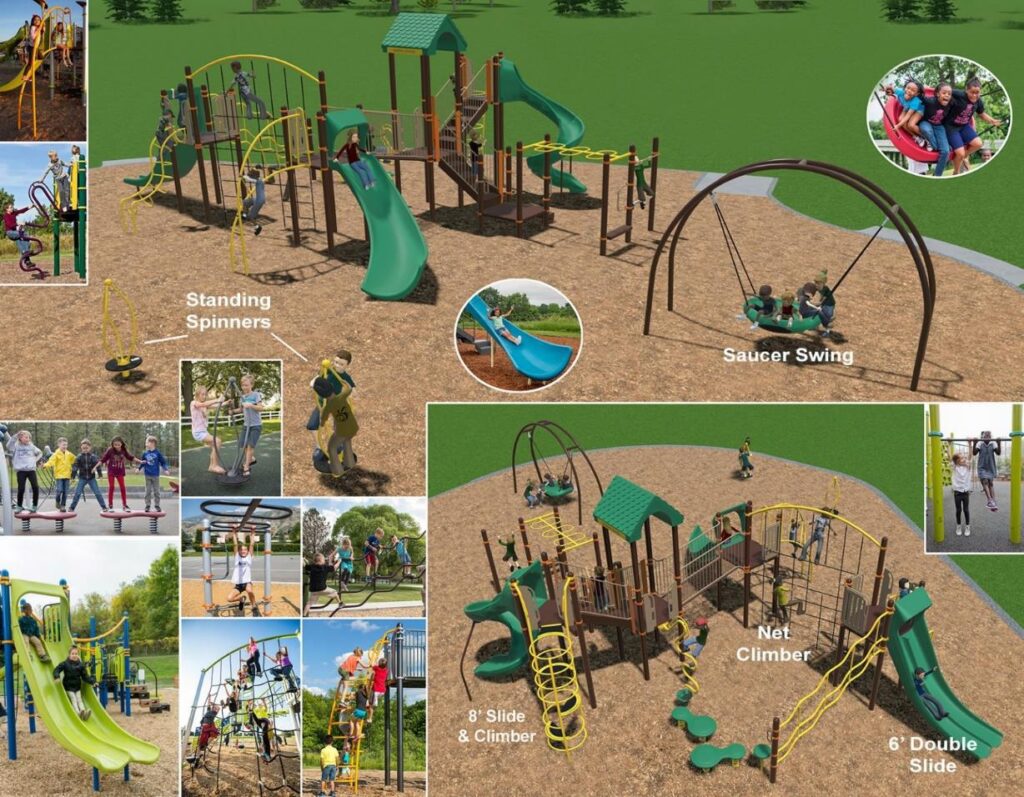 SPRING PRESCRIBED BURNS TO OCCUR THROUGH APRIL 30
Updated November 10, 2022 – The Woodridge Park District will be conducting prescribed burns at various parks and properties this fall and next spring. The burns will take place between October 24, 2022 and April 30, 2023 when weather conditions are suitable.
Prescribed burns are part of a natural areas management process and will be conducted by trained Park District staff or an experienced contractor. All burns are supervised by an Illinois Certified Prescribed Burn Manager. Prescribed burns are a management technique used for improving site conditions for high quality native plants while reducing invasive weeds.
During the prescribed burn, smoke conditions will occur, but shall be kept to a minimum. Should any of your family members have health situations that may be affected or irritated by these conditions, please contact Christopher Pollack, Natural Resource Manager at cpollack@woodridgeparks.org or 630-353-3373. Visit the Rainout Line webpage or subscribe for alerts via the Rainout Line app to receive prescribed burns updates.
As of November 10, the following sites have been completed:
Ide's Grove East Park
Windy Point Park
Cypress Cove (partially completed)
Pond 54: natural area east of Woodward Ave and Prairie Ln (contracted)
Prescribed burns are planned for the following sites:
63rd Street Park
Boundary Hill Woods
Caddie Corner Park
Castaldo Park
Echo Point Park
Falconridge Park
Foxtree Court Stream – natural area near Foxtree Ave. and Wintergreen Ct.
Hawthorne Hill Woods
Heritage Parkway (contracted)
Ides' Grove West Park

Pond Buffer
Timber's Edge Woodland (only the section that was not replanted)

Janeswood Creek – natural area between Wake Robin and Wintergreen Courts
Killdeer Basin – natural area near Killdeer and Oriole Courts
Lake Carleton
Lake Harriet
Mending Wall Park
Orchard Hill Park (contracted)
Rutgers/Peters Drive Basin
Seven Bridges Park
Summerhill Park
Triangle Park (contracted)
Vicente Subdivision Outlot A (contracted)
Vicente Subdivision Outlot C
Vicente Subdivision Outlot D (contracted)
Village Greens Golf Course
Water Tower Reserve Unit 1 Outlot A
Water Tower Reserve Unit 1 Outlot B
IDe's grove west park restoration uPDates
June 17, 2022 – On June 8th,  the District's contractor removed remaining sections of an existing fence along the west perimeter of Ide's Grove West Park that was damaged by the tornado.
On the morning of Saturday, June 11th, 58 volunteers attended the Community Planting Dan and assisted with the planting 164 native trees and shrubs. Prior to this event Park District staff  planted an additional 146 larger trees for a total of 300 native trees and shrubs being planted in the woodland area so heavily damaged by the June 2021 tornado. The cost of the reforestation efforts was offset in part by grant funding totaling $4,000 including $3,000 from the nonprofit group Trees Forever through their "Recover, Replant, Restore!" grant program and an additional $1,000 from IDNR's "Earth Day in the Parks" grant initiative sponsored by the Daniel F. and Ada L. Rice Foundation and the Illinois Conservation Foundation. Generous donations plant materials  and of supplies critical to the replanting efforts from local partners including Davey Expert Tree Company, Site One Landscape Supply, and the Morton Arboretum also helped to defray costs. Numerous residents donated trees to the effort.  Staff will continue to preform regular maintenance on these plantings throughout the 2022 growing season including regular watering.
On June 17th the District's contractor installed 24 replacement trees across the park site replacing landscape trees lost during the tornado.  The cost of these 24 tree replacements were covered by the District's insurance.
TORnado recovERY StaTUS
March 21, 2022 – The Park District continues to work with the insurer regarding claims for repairs and/or replacement of capital assets within 10 park sites impacted by the tornado. This work included the recent replacement of the damaged park shelter at Windy Point Park. Currently, the District is under contract the maintenance (weekly watering) of 84 landscape trees recently installed at 4 heavily impacted park sites (Ide's Grove East, Ide's Grove West, Ide's Legacy and Windy Point Parks).
---
Recently Completed Projects
Invasive Plant Removals and Natural Areas Clean-up
November 14, 2022 – District staff completed  work at numerous park properties and natural areas mechanically removing woody, invasive plant material including buckthorn, willows and honeysuckle. This work utilized commercial-grade equipment including brush chippers and skid steer mounted grinding equipment (forestry mulcher and stump grinder). This was completed in compliance with the Village's construction noise ordinance with no equipment being operated before 7:00 AM
Project Sites:
Hawthorne Hill Woods
Ide's Grove East Park
Janes Avenue Park
Lake Carleton
 Lake Harriet
Orchard Hill Park
Peters/Rutgers Drive Basin
Pond 54 (natural area east of Woodward Ave. & Prairie Ln.)
Town Centre (Jubilee Site)
Vicente Outlot D (natural area bordered by Westminster Dr., Hampstead Ct., Coppergate Rd. and Charing Cross Rd.)
Vicente Outlot E – (natural area bordered by Gloucester Rd., Hampstead Ct, Vail Ln. Rutgers Dr., Hastings Rd. and Timber Trails Rd.)
Westminster Park
Windy Point Park
FALL ASPHALT WORK COMPLETED
Updated November 1, 2022 – Asphalt patching and resurfacing of various park paths and parking lots began on Friday, October 7th and continued through the month of October as weather conditions permitted. The contractor substantially completed all paving work during the final week of October, and all parking lots and paths included have been reopened for public use. Minor punch list and site clean-up items will be completed in November.
Sites completed:
Audubon Path (between Foxtree Ave. & Killdeer St.)
Castaldo Park Path
Echo Point Park Parking Lot & Path
Falconridge Park Parking Lot
 Fred C. Hohnke Community Center Parking Lot
 Lake Carleton (North) Path
Patching of Various Bike Paths:

ComEd Property (between 71st and 63rd Streets)
Hawthorne Hill Woods
Summerhill Park
Fred C. Hohnke Community Center Parking Lot WORK COMPLETE
Updated October 19, 2022 – Re-paving and re-striping  of the Fred C. Hohnke Community Center parking started on Tuesday, October 11 and was completed and available for use on Wednesday, October 19.
Pathway connecting Ide's West and East Parks open for use
August 25, 2022 – Construction of a multi-use paved pathway on the Nicor Easement connecting Ide's Grove West Park to Ide's Grove East Park, which began in mid-May, has been completed and the path is open for public use. On July 26, the 45-day long strike by heavy equipment operators at area quarries that had brought the development to a standstill was resolved. On August 5, the contractor resumed work on the project completing installation of the asphalt paving and returned later in August to complete site restoration efforts.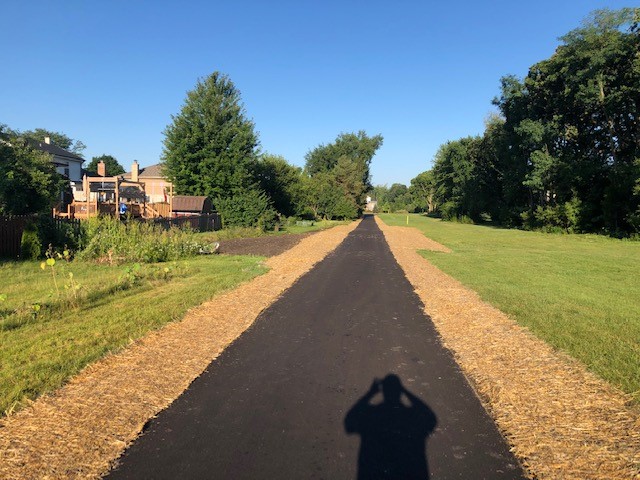 NEW PARK SHELTER AT WINDY POINT PARK READY FOR USE
July 13, 20122 – As a result of the damage incurred by the June 2021 tornado, the shelter at Windy Point Park is required a full replacement. The damaged shelter was removed on March 21st. Construction of a new shelter to be erected in the same location began on May 20th. Final finishes were completed and the new shelter was opened for public use on July 5th.
path & parking lot SUMMER repairs complete
June 17, 2022 – Asphalt maintenance including crack repair and sealcoating took place at numerous park sites and pathways throughout Woodridge beginning May 11 throughout the summer months. Parking lot closures will occur during this time. Contractors completed the following sites:
Orchard Hill Park Parking Lot & Path
Sunnydale Park Parking Lot & Path
Hobson Corner Park Parking Lot
Forest Glen Park Parking Lot
Castaldo Park Parking Lot
Windy Point Park Path
Summerhill Park Path
Path near Janeswood Avenue
63rd Street Park Path
ComedEd Path from 63rd Street to 71st Street
Hawthorne Hill Woods Paths & Driveway
Ide's Grove East Park Path
Mending Wall Park Path
Three playgrounds receive new Safety Surface 
May 30, 2022 – As part of the District's capital replacement program, removal and replacement of the playground safety surface occurred in late March through April at Willow Creek School,  Somerset Park and Falconridge Park. The contractor removed the old surface & fabric and replaced it with "Safe-T-Mat," an engineered, ADA-approved wood chip.
TREE PRUNING & REMOVA

L

August 9, 2021 – The lack of rainfall in the last two years has had a negative impact on the mature Oak trees throughout the District and has pushed some of the already stressed trees past the point of recovery. Therefore, 12 trees at Castaldo Park and two trees at Echo Point will be removed. Additionally, four trees at Castaldo Park will be pruned of dead wood.

In consultation with Morton Arboretum, the District developed a plan to aid the current Oaks at Castaldo and Echo Point Parks, which consists of periodic watering as needed, insecticide treatments in the fall, fertilization in spring of 2022 and applying a growth regulator on new trees in the summer and fall of 2022.

In addition to the tree pruning and removals at Castaldo and Echo Point Parks, additional tree work will occur at Hawthorne Hill Woods related to the development of an alternate Haunted Forest Walk access path which was necessitated by a culvert washout in 2020.
SLED HILL OPENED for PLay on January 1
January 3, 2022 – The new sled hill, located just west of Jefferson Jr. High's new athletic field complex, was closed last winter in order to properly establish the hillside turf, but it's now ready for snow and sledders! The 22-foot hill will be open during daylight hours when conditions allow for sledding. Visit the Woodridge Park District's Rainout Line web page to view the sled hill's status and sign up for text or email alerts
RETAINING WALL REPLACEMENTS
October 22, 2021 – A contractor removed and replaced an existing degraded retaining wall at Internationale Estates Park and removed and reinstalled an existing leaning retaining wall at Forest View Park.
janes avenue baseball infield renovations
October 22, 2021 – Ballfield renovations at Janes Avenue Park's northeast baseball field began on September 27th and were completed on September 30th. The existing 90-foot skinned infield was converted in to a 70-foot skinned infield for improved playing conditions. The project also included removal of material, fine grading, sodding, moving five existing irrigation heads, and installing clay in the wear areas near the plate and mound.
MEADOWVIEW SCHOOL EAST PLAYGROUND Replacement
October 20, 2021 – Work at Meadowview School's east playground began in early August and was completed the week of October 19. The playground also serves residents in the new Hobson Hill subdivision and the project is a cooperative agreement between School District #68 and the Park District. Improvements include: replacement of the existing asphalt walk between Foxtree Lane and the school parking lot with an ADA accessible poured concrete walk; repaving of the existing asphalt play lot along the east side of the school; redevelopment of courts on the play lot including a new basketball court with hoop and foursquare courts; development of landscaped and bench seating areas; and replacement and expansion of the existing playground which includes new play equipment, concrete curbed borders, ramp access, drainage system and wood fiber safety surfacing.
FOREST GLEN PARK TEnnis court & PLAYGROUND IMPROVEMENTS COMPLETED
September 17, 2021 – The Forest Glen Park tennis courts were  September 7-17 for recoloring and crack repair work. The playground at Forest Glen Park reopened for public use on Monday, July 26th following the completion of planned renovations. During the 17-day closure, contractors removed the original rubber surfacing, prepared the subsurface and completed installation of new, colorful poured-in-place rubber surfacing.
NEW SWINGS & OTHER IMPROVEMENTS COMPLETE AT MURPHY SCHOOL
September 1, 2021 – Construction  at Murphy School was completed in September to replace aged swing equipment, timber borders and surfacing. Improvements include: installation of a new 4-bay swing structure, concrete curbed borders, an accessible ramp, drainage system and wood fiber safety surfacing.
Jefferson Junior High School Track & Artificial Turf Athletic Field Project
The Park District partnered  with School District 68 to partially share in the funding and use of an outdoor athletic facility at Jefferson Junior High School.  The new facility is located west of the school and includes an eight-lane track with a lighted synthetic turf sport field in the center for multi-sports, as well as relocation of two new baseball/softball fields to the north of the school property.  Click to view the park.